Byrnes late free earns Limerick a draw with Clare at Ennis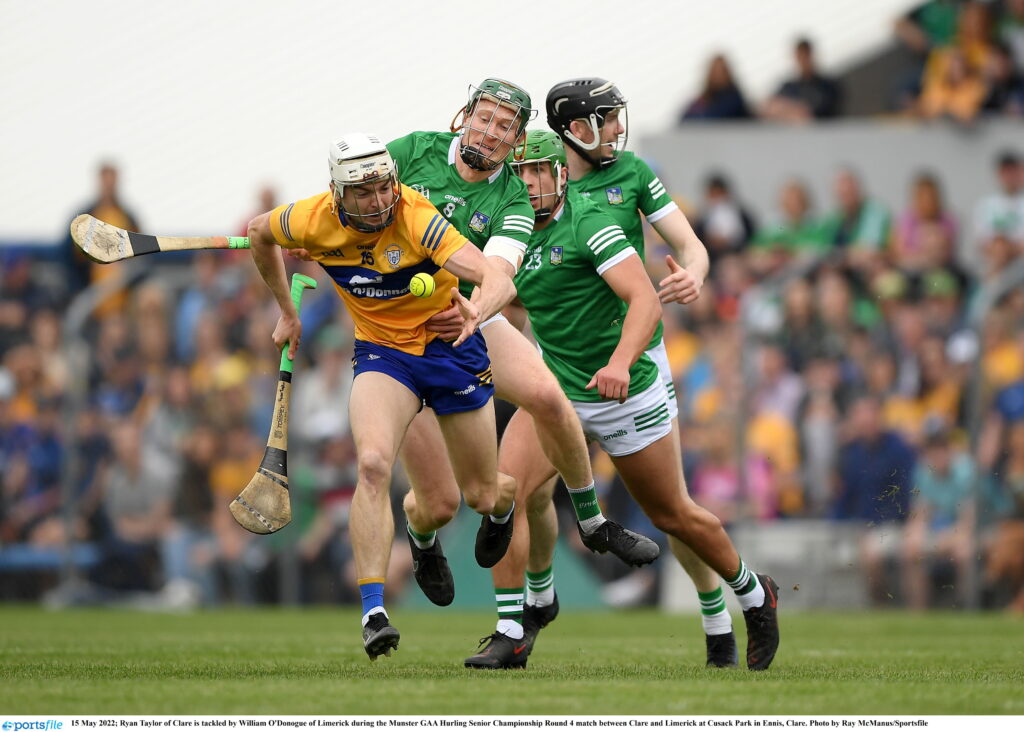 LIMERICK remain unbeaten in the Munster Hurling Championship after a 1-21 to 0-24 draw with Clare at Cusack Park in Ennis. The teams will meet again in the Munster final following Cork's win over Waterford.
Diarmaid Byrnes landed a long free reach in extra time to level the game for a 14and time before referee Colm Lyons whistled full time.
The Treatymen will leave Ennis feeling aggrieved to say the least after Gearoid Hegarty was sent off for two harsh yellow cards, while there were plenty of other decisions that will be discussed at length in the coming days.
Limerick shot the first two points thanks to a Diarmaid Byrnes '65 and a Seamus Flanagan point from the game.
David Fitzgerald and the first of Tony Kelly's 12 points in the first half quickly brought Clare level after eight minutes.
John Kiely's men quickly returned to the ascendancy with a superb Gearoid Hegarty score and a free Byrnes.
Byrnes landed another ball placed between two free Kellys which left the score 0-5 at 0-4 in Limerick's favor after 12.
Clare's number 11 then fired over two more free kicks to put his side ahead before Limerick hit the back of the net through Kyle Hayes.
Conor Boylan made a nice catch and ran for goal but was tight on the 21-yard line. Boylan then regained possession and found Hayes doing the needful from close range.
Clare didn't panic, however, with two more free Kellys tying the contest for the third time.
Fitzgerald and Diarmuid Ryan then grabbed two of the game for Brian Lohan's men who saw them 0-10 down 1-5 clear.
Predictably, Limerick raised their game again with a free David Reidy and a wonderful effort from Byrnes as they squared in for the fourth time.
Kelly then gave another example of his prowess from set balls with three on the rebound. Byrnes responded in kind with two of his own with Hegarty's second of the half once again leveling the game.
Tom Morrissey and David Reidy finished the scoring for Limerick in the first half, but Kelly answered both scores to put it at 1-12 from 0-15 at the break.
The teams could not be separated in the early stages of the second half, but two more from Kelly edged Clare.
Limerick remained patient with Hegarty's fourth of the game and another free from Byrnes squared for 11and opportunity on 57 minutes.
Everything was square again in the closing stages when Hegarty received a second yellow card for what was ruled a strike by referee Lyons.
The stern call didn't deter Limerick with Darragh O'Donovan nailing a score to put Limerick ahead.
A contentious point from Shane Meehan equalized once again but the score shouldn't have stood as there was a clear pull on Sean Finn's hurley by Shane O'Donnell in the build-up.
Ryan Taylor had Clare in a winning position before injury time only for Byrnes' ninth score to see the game end in a draw.
Scorers – Limerick: Diarmaid Byrnes 0-9 (7f, 1'65), Gearoid Hegarty and David Reidy (4f) 0-4 each, Kyle Hayes 1-0, Seamus Flanagan, Tom Morrissey, Oisin O'Reilly and Darragh O'Donovan 0-1 each.
Markers – Clear: Tony Kelly 0-16 (10f, 1'65), David Fitzgerald, Diarmuid Ryan and Ryan Taylor 0-2 each, David McInerney and Shane Meehan 0-1 each.
Limerick: Nickie Quaid (Effin); Sean Finn (Bruff), Mike Casey (Na Piarsaigh), Barry Nash (South Liberties); Diarmaid Byrnes (Patrickswell), Declan Hannon (Adare, captain), Dan Morrissey (Ahane); Robbie Hanley (Kilmallock), William O'Donoghue (Na Piarsaigh); Gearoid Hegarty (St Patrick's), Kyle Hayes (Kildimo-Pallaskenry), Tom Morrissey (Ahane); Conor Boylan (Na Piarsaigh), Seamus Flanagan (Feohanagh), David Reidy (Dromin-Athlacca).
Subtitles: Graeme Mulcahy (Kilmallock) for Boylan (53), Darragh O'Donovan (Doon) for Hanley (57), Oisin O'Reilly (Kilmallock) for Flanagan (57).
Claire : Eibhear Quilligan; Rory Hayes, Conor Cleary, Paul Flanagan; Diarmuid Ryan, John Conlon, David McInerney; David Fitzgerald, Jason McCarthy; Cathal Malone, Tony Kelly, Shane O'Donnell; Robyn Mounsey, Peter Duggan, Ryan Taylor.
Subtitles: Shane Meehan for McCarthy (ht), David Reidy for Mounsey (47), Aron Shanagher for Duggan (73).
Arbitrator: Colm Lyons (Liege)
The post office Byrnes late free earns Limerick a draw with Clare at Ennis appeared first on sporty limerick.